Oftentimes, selecting a new car pits you head to head with your fantasies of what you want to drive, and the realities of your financial situation. If you have bad credit or no credit, this might make things more difficult-at another dealership, at least. Here at Rydell Chrysler Dodge Jeep RAM, we firmly believe that no vehicle should be out of your grasp, so we work with drivers in these situations to make sure they get the car you want.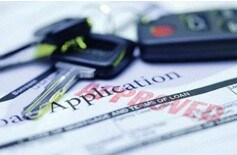 How can we help with your bad credit or no credit car loan? It all starts with the dedicated professionals at our finance center. They're adept at navigating the ins and outs of fiscal agreements, lending institutions, and credit. And did we mention they're customer-focused, people's people as well? With their help, you can still put together a lease or loan agreement, regardless of the stains on your credit history, or assist if you never have built credit in the first place.
But just how does our finance team work such lending sorcery, you might ask? Our showroom has relationships with numerous local lending institutions, which allows us the choice to pick one who will best be able to handle your situation. That way, we can more easily tailor your agreement into one that works for you in the long term, and so you can drive home in the car you've always wanted to own!
Want to get the ball rolling? It's easy! Start off by filling out our financing application through our website below. You can also estimate your payments, and more! Contact our showroom right here in San Fernando, CA at your convenience.